Alloggio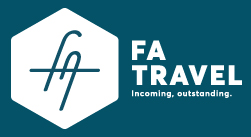 An official travel agency has been appointed to deal with delegates' hotel arrangements:

F.A. Travel Srl
Via S. Tommaso d'Aquino, 18 - 09134 Cagliari, Italy
Tel. +39 070 554195 - landfill@fatravel.it

CLICK HERE TO BOOK YOUR ROOM: https://pco.hub-core.com/sardinia2021.html#/event/4/sardinia2021

A block booking with special rates has been made to accommodate all participants at the Forte Village Resort, as detailed below. All prices are per person per night on a half-board basis (VAT included). Meals included in the price are breakfast and evening buffet dinner (water and table wine included).

Choose between 8 different hotels within the resort:


VAT 10% included
Hotel
Double room
Single room
Bouganville
€ 125
€ 163
Le Palme
€ 130
€ 168
Pineta / Il Borgo
€ 145
€ 183
Il Castello
€ 160
€ 198
Villa del Parco
€ 285
€ 355
Le Dune
€ 285
€ 355
Il Castello Deluxe
€ 340
€ 410
SPECIAL PROMO! If you book your accommodation within 30th April 2021, you will get a free hotel room upgrade
according to the scheme below:









This limited offer is reserved only for delegates already registered in the Symposium.




Feel safe to stay at Forte Village thanks to their strict Covid Protection Protocol, validated by a medical-scientific committee from Italy's leading Universities, which allows guests to put aside all the stress and worries and enjoy their stay in complete safety.