Accommodation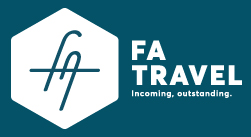 An official travel agency has been appointed to deal with delegates' hotel arrangements. For any information, pleaese contact them directly at:

F.A. Travel Srl
Via S. Tommaso d'Aquino, 18 - 09134 Cagliari, Italy
Tel. +39 070 554195 - landfill@fatravel.it

CLICK HERE TO BOOK YOUR ROOM: https://pco.hub-core.com/sardinia2021.html#/event/4/sardinia2021


A block booking with special rates has been made to accommodate all participants at the Forte Village Resort, as detailed below. All prices are per person per night on a half-board basis (VAT included). Meals included in the price are breakfast and evening buffet dinner (water and table wine included).

Choose between 8 different hotels within the resort:


All prices include VAT 10%
Hotel
Double room
Bouganville
€ 125
Le Palme
€ 130
Pineta / Il Borgo
€ 145
Il Castello
€ 160
Single supplement
€ 38
Villa del Parco
€ 285
Le Dune
€ 285
Il Castello Deluxe
€ 340
Single supplement
€ 70
SPECIAL PROMO! Book your room now and get a free hotel upgrade according to the scheme below:








This offer is reserved only for delegates already registered in the Symposium and for a limited number of rooms.
Don't wait, take advantage now while they are still available!
To get detailed information, please contact directly our travel agency.



You can book now with confidence knowing that Forte Village has a flexible cancellation policy that will give you a full refund up to 30th September if you won't be able to travel.
Also, we remind you that, at the moment of booking, you will only pay a 40% deposit of the full cost.

Feel safe to stay at Forte Village thanks to their strict Covid Protection Protocol, validated by a medical-scientific committee from Italy's leading Universities, which allows guests to put aside all the stress and worries and enjoy their stay in complete safety.