Travel Agency & Accommodation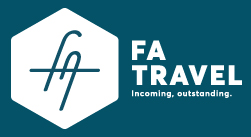 F.A. Travel srl
Via S. Tommaso d'Aquino, 18
09134 - Cagliari, Italy
t.: +39 070 554195
landfill@fatravel.it




An official travel agency has been appointed to deal with delegates' and authors' airport transfers and hotel arrangements. The staff from F.A. Travel will also be available for assistance at the Forte Village Congress Centre.

For any information or assistance please contact the agency on landfill@fatravel.it.

Airport tranfers
A special group transfer service from Cagliari-Elmas airport to Forte Village Resort will be available on Saturday September 28th (from 2pm to 11.30pm) and Sunday September 29th (8.30am - 11.30pm); from Forte Village to Cagliari-Elmas airport on Friday October 4th (2pm - 8pm) and Saturday October 5th (6am - 8pm). On Sunday October 6th a bus transfer service will be arranged with 2 coaches, one in the early morning (about 7am) and one in the afternoon (about 2pm).

Transfer fees
One way ticket / € 32
Return ticket / € 64

Individual transfers during the Symposium week will be provided at the following rates:
Vehicle (from 1 to 3 people) / € 100
Minibus (from 4 to 8 people) / € 140

Accomodation
A block booking with special rates has been made at Forte Village Resort to accommodate all participants. All prices quoted are per person per day on a half-board basis (VAT included). Meals included are breakfast and evening dinner (water and table wine included).


Bouganville: € 120 double room / € 157 single room
Le Palme - Il Borgo: € 125 double room / € 162 single room
La Pineta: € 140 double room / € 177 single room
Il Castello: € 150 double room / € 187 single room

Villa del Parco: € 270 double room / € 338 single room
Le Dune: € 270 double room / € 338 single room
Il Castello Deluxe: € 310 double room / € 378 single room

Bookings received after the deadline of 6th September 2019 cannot be guaranteed. No refund will be possible for advance departure respect to number of nights paid.

Reductions
Reductions for children (only if sharing with 2 adults):
children 0-12 / FREE
third bed / 50% discount

Cancellations
Please inform F.A. Travel of any change or cancellation of hotel reservation. Deposits will be refunded only if written notification of cancellation is received before 6th September 2019.