ONLINE - Istruzioni Relatori e Partecipanti
This edition of the Symposium will be held in a hybrid format: each session will feature presentations made by both on-site and online speakers.

INSTRUCTIONS FOR ONLINE SPEAKERS
Online oral presentations will be delivered using Zoom, directly implemented on our virtual platform in each session.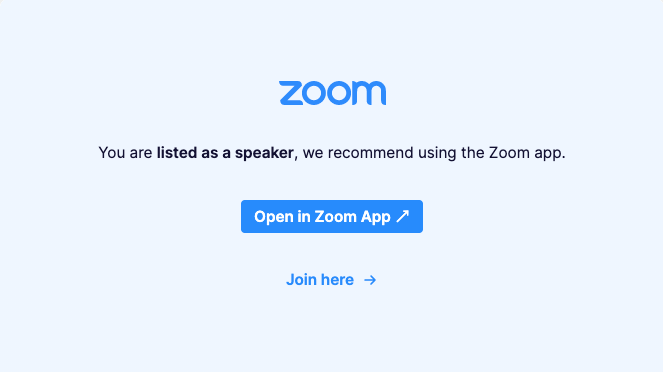 Speakers just need to click on the session in which their presentation is scheduled and they will find the Zoom meeting: to access please click on the button "Open in Zoom App".

Make sure that you have downloaded the Zoom app on your computer and have logged in with your account.
Should you already have a Zoom account with a different email address than the one you provide us, please inform us accordingly.

Once you are inside the Zoom session, you will find the following profiles connected:
our staff member for technical guidance and support;
the Chair of the session;
the other online presenters.

Before the session begins, we will make a technical test in order to make sure that everything works well. Therefore, each online speaker is requested to join the meeting at least 30 minutes before the start of the session.
At the official start time of the session, the staff member will open the live session to all attendees.

For your presentation, you will be able to easily share your screen in order to show your PPT slides and present your work to both the audience. The on-site participants will see your presentation projected in the conference room and will be able to ask questions at the end of the presentation.
The Chair, with the help of our staff member, will moderate the questions coming from both the on-site public and the online participants.


INSTRUCTIONS FOR ONLINE ATTENDEES
Participants can join remotely every session through our virtual platform. You will be able to:
watch all presentations, both from on-site and online speakers;
ask questions via the Q&A tool and the chat in Zoom;
raise your hand in order to be enabled to interact directly with your microphone and camera.

In each session, you will find a Zoom meeting and you have the option to join it directly inside our platform or to open it in the native Zoom app (if you have it on your computer).
In the first case, after clicking on "Join here", the platform will quickly check your microphone and camera. Then, click on "Join meeting" to enter the session.